Note: This is the fifth installment in a multi-part series covering the history of Lincoln in commemoration of the town's 150th anniversary.
LINCOLN – Many of Lincoln's street names were decided or by, or named after, the first families to settle here.
When Lincoln separated from Smithfield in 1871, there weren't as many streets laid out through the new community as one might think. In fact, it was one of the first responsibilities of the town's founding fathers to lay new roads.
Lincoln's street names are preserved pieces of history that residents pass by and reference on a daily basis, not giving much thought to their origin. Here are some of them:
Angell Road was home to more than one Angell household in the 18th century.
Anna Sayles Road is likely named for Anna Aldrich Sayles, who died at 100 years old in 1874. She is buried in Lincoln's Aldrich lot. Her headstone was erected by her son, Simon Sayles, after whom another Lincoln street is named.
Arnold Avenue and Arnold Street bear the surname of one of Lincoln's very first families. Eleazer Arnold's homestead, built around 1963, still stands on Great Road. Arnold and his wife went on to have 10 children, for whom several houses were built across town. There were so many Arnolds in Lincoln at the time that the area was sometimes called Arnoldia. In the late 1800s, Thomas A. Arnold was living where Arnold Avenue is today.
Berkshire Drive is named after the Berkshire Company. The corporate successor of the Albion mill company built the last of Lincoln's mill housing here in the 1940s.
Butterfly Way (East and West) Stephen H. Smith, who built the Hearthside House on Great Road, also constructed a textile printing factory called "The Butterfly Mill" in 1811. The placement of two stones on the outside of the mill (now a private residence) form the shape of a butterfly.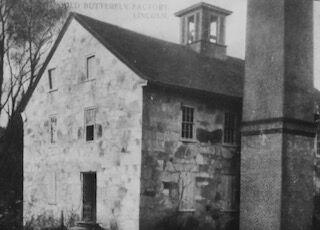 Chapel Street gets its name from the Sayles Memorial Chapel, founded in 1873 by the owners of the Sayles textile mill operation in memory of their late children. The church predates most of the homes on Chapel Street, which were built by the mill owners starting in 1880.
Cullen Hill Road was cut through the Whipple-Cullen farmland located off Old River Road. The land was owned by the Whipple family until after the Civil War. The Cullen family operated a dairy farm there until the 1940s.
Dexter Rock Road is a reference to Gregory Dexter, who began mining limestone in this area in the 1660s. In the 1670s, he and his son Stephen settled at Dexter's Ledge, where they opened a successful lime quarry.
Eddie Dowling Highway, or Route 146, is named after Eddie Dowling (born Joseph Nelson Goucher, 18889-1976), an award-winning actor, director, writer, composer and producer from Lincoln who made it big. The highway was ceremoniously named after Dowling in 1960.
Great Road is among the oldest in town, laid in the 1600s before Lincoln separated from Smithfield. It was known as "the great road to Mendon," connecting Lincoln to the economic center of Mendon, Mass.
Harris Avenue is likely named after Thomas Harris, another prominent limestone miner whose family dominated the industry along with the Dexters.
Jenckes Hill Road marks the location of the estate of Rufus Jenckes (1827-1895), whose property sat atop 'Jenckes Hill.' Jenckes was a cooper and whaler who ran a farm on the unnamed road. He was predeceased by his first wife Martha and second wife Mary Eldredge, as well as and five of his seven children.
Lampercock Lane references the old Lampercock Spring Farm off Wilbur Road, a 200-acre homestead in the Phetteplace family for generations.
Lladnar Drive is among the most unusual of Lincoln's street names. Since the word is the name Randall spelled backwards, it may be a nod to C.F. Randall, who owned land in that area, but that's an educated guess. There is a Civil War veteran named C.F. Randall buried in Providence.
Manchester Print Works Road runs through Lincoln Woods State Park. It memorializes a mill that once stood near the park's entrance, where textiles were finished with colors and designs. The mill burned down twice and once exploded due to a faulty boiler.
Old Louisquisset Pike is appropriately named, being one of Lincoln's three oldest roadways. It was created around 1806 as a turnpike connecting Providence to Lime Rock. The word Louisquisset is an anglicized Native American word loqusqusset, probably stemming from colonists' inability or unwillingness to pronounce it as intended. The original word for which Louisquisset was drawn is much debated.
Preserved Arnold Court may honor the late Preserved Arnold (1788-1828), or his son Preserved Whipple Arnold (1826-1919), a triplet whose sisters died young. Tragically, Preserved Sr. died a few weeks after the triplets at age 40.
Quinn Lane could reference the Quinn family, after whom the village of Quinnville may be named. There were Quinns in the area beginning in the 1890s.
Railroad Street, of course, runs alongside the tracks.
Reservoir Avenue leads to the Pawtucket Reservoir.
River Road, which runs roughly parallel to the Blackstone River, was opened around 1840 to ease access to Lincoln's growing mill villages.
Sayles Avenue is likely named after mill owners William F. Sayles, his brother Frederick and son William, who together established the village of Saylesville around their textile mill enterprise.
Simon Sayles Road honors Simon Sayles (1812-1897), a descendant of Roger Williams whose obituary memorializes him as "one of the oldest and best-known citizens of Lincoln." He was born in Lincoln before the town was incorporated, and went on to become a prominent local politician.
Tucker Lane and Tucker Street, of Chapel Street, may be named after F. Tucker, who lived there in the late 1800s.
Vose Street may be named after Alonzo Willing Vose (1849-1918), who lived in that area.
Whalen Drive is located next to one of Lincoln's oldest surviving properties, the 1690s Valentine Whitman Jr. House. The home once belonged to the Whalen family.
Wilbur Road is likely named after David Wilbur, whose homestead was established there around 1750.